This is the first in a series of  ZING survey results highlighting the challenges and growth opportunities for Small Businesses during the global health pandemic.  Survey responses represent the views of US Small Business owners that have survived the first wave of closures and were open for business in September 2020.
Highlight:  38.7% of Small Businesses have GROWN in 2020!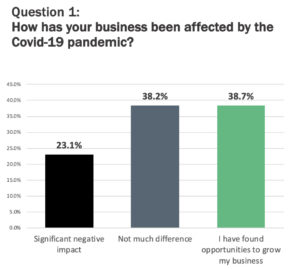 This has been a challenging year for Small Businesses, with an estimated 25% permanently closed as of September, according to the World Economic Forum.  ZING's survey of business owners that survived the initial wave of closures reveals that while many are struggling with everything that 2020 has thrown at them, there is a silver lining:  a large minority of Small Businesses still open are adapting and finding new opportunities to grow.
23.1% of survey respondents reported a "significant negative impact" on their business;
38.2% reported "not much difference" in their business;
38.7% of survey respondents have "found opportunities to grow" despite, or many because of, the pandemic.
Necessity is the mother of invention, and America's Small Business owners are finding new ways to adapt and grow in challenging times.  This might mean investing in online distribution models, new product lines, or shifting the model from retail to mobile delivery, as is the case with Beauty Moves, the subject of last month's "Powered by ZING" profile.
How is YOUR business positioning itself to grow by adapting to new market conditions?  We'd love to hear your ideas and help you explore options to finance your plans.
Other highlights from ZING's Small Business survey:
With so many businesses struggling (and closing), it's great to see bright glimmers of hope.  The entrepreneurial spirit is strong!  America's Small Businesses will lead the economic recovery.
Among US Small Businesses that have survived 2020 so far:
38.7% have grown their business since the beginning of the pandemic;
15.4% have expanded their business hours to meet increased demand;
46.2% believe that the worst is now behind us;
69.1% plan to invest in their business to prepare for a recovery.
Here's to New Ideas and Big Plans!
ZING is proud to support Small Businesses with Big Plans for the future!  Call us or apply online to speak with one of our Business Growth Advisors about how we can get you the funding you need within 2-3 business days – so you can get back to growing your business!
Thank you to all the Small Business owners who participated in the survey.